Are you looking for opportunities to bring your team together to collaborate in an inspiring setting? Or perhaps you are looking for unique ways to connect your remote teams throughout the year? A corporate retreat is a perfect way to build rapport within your organization while reenergizing your employees.
Sounds great, right? But where do you start when it comes to all of the decisions and logistics management?
Not to worry. This blog serves as your roadmap to start planning your next company-wide adventure.
You are ready to invest significant funds and employee time into a retreat. Make sure you identify your primary goals so they stay at the top-of-mind during the planning process.
Do you want business to be the main focus of your retreat?
Perhaps you are focused on co-creating goals or empowering your team's leadership skills. If so, search for a fantastic facilitator or keynote speakers who will help guide your team and keep everyone motivated. You may even want to find a facilitator who can offer one-on-one coaching throughout the retreat.
*Make sure you find a hotel or venue space that can easily accommodate general session space and breakout rooms for your group size.
Do you want this to be a fun opportunity for your team to bond?
If you are focused on strengthening your team's interpersonal relationships, incorporate a lot of team-building activities, fun outings and simple connection time into the agenda.
On a recent retreat we supported clients with in Charleston, South Carolina, employees were invited on a private sunset cruise on the Charleston Harbor and they learned the art of weaving baskets with locally-harvested bulrush, a marshgrass that thrives in the area. In the evenings, they relaxed and played board games in the hospitality suite, stocked with snacks and drinks.
*Lean on the unique aspects of your destination to identify excursions that will engage your team.
Are you trying to reinforce your organization's values?
Interested in having your team embrace your core values and learn how to live them out in a powerful way? Awesome, start thinking about what that can look like. Are your core values focused on generosity or giving back?
Work with a local non-profit to make an impact. Or maybe your values are centered on teamwork. If so, bring in a local improv performer and have them host a session where team members can practice what that looks like. However you integrate your core values, your team can leave with a new and refreshed look into what sets your company apart.
Taking the time to think through these questions will help you curate an agenda that meets the retreat's overarching goals.
There are endless places to choose from, making the decision for your corporate retreat location feel pretty overwhelming. To get past endless possibilities, start identifying your preferences to point you in the right direction.
What is your budget?
Looking for a splashy spot with lots of wow? Consider an international destination with many 5-star resorts. On a bit more of a budget? There are many second and third-tier cities in the United States that allow you to stretch your event dollars. As you start your search, be sure to loop in the local tourism board. They often offer booking perks to host your event in their destination.
Is the location easy to get to?
Travel days can be one of the most hectic parts of the attendee experience. Try to limit the amount of time attendees are spending on their commute. When we work with clients, we start by researching the flight options from each of the "gateway cities" (the airport locations from which all attendees are coming). Then we put together calculations on average travel times and aim to reduce connections and long layovers wherever possible.
*If you have attendees coming from a far distance, consider flying them in a day early and covering the cost of an extra hotel night. That way they will be extra fresh for the retreat.
Is there a certain vibe you have in mind?
Define the type of setting you want to create for your team. What most aligns with your group's vibe — a bustling metropolitan, a small historical town, a tropical beach destination, or an area with lots of nature and adventure activities? Not sure where to start? Send a simple survey to your team to get their insights.
What kind of accommodations sound most appealing?
A boutique hotel, a retreat center, a resort, a hotel with conference space connected, or maybe a cruise? With so many options, envision the type of look and feel that would most excite your team. Also, keep in mind that if you need a lot of conference space, larger hotels are often more accommodating.
Creating experiences that make everyone feel welcome and included are part of the retreat's success. That often means being creative about hosting smaller group gatherings that offer a more intimate experience for your teams.
You may want to organize groups by department, tenure at the company or just by random selection.
Here are some small group gatherings to consider:
Dine-arounds are informal dinners with smaller groupings of people. This is often between six and twelve people so everyone can be comfortably seated at a table while connecting and eating with ease.
Choosing the right restaurant options is key, so do some research on the options in or around your hotel property. If you prefer to host dinners off-site, check out maps of the area or lean on local partners, blogs, or social media.
We often look for restaurants that are nearby (to eliminate long or expensive transportation), offer cuisine options that can accommodate diverse dietary needs, and have private rooms or seating that is in a quieter area (so conversation is easy).
Don't hesitate to get creative! Think about options like outdoor venues, food truck parks, sunset dinner cruises, dinner theaters, and other unique opportunities to be able to give your dine-arounds the right feel.
Scavenger hunts are a fun and often cost-effective way to bring small groups together. It can be as simple as providing groups a list of items or tasks to complete or solve puzzles or codes. Another idea is to make a scavenger hunt destination-themed where team members learn fun facts about the local area. You can lean on partners to help design this or build it yourself with helpful interactive phone applications like Goosechase.
Host a hospitality suite just for your team throughout the entire corporate retreat. Stock it with a range of individual and group games and activities, snacks, books, and plenty of room to lounge, rest, or connect. This might be a late-night hangout spot dedicated to just your group, or it may be a place to decompress between meeting sessions and outings. And don't underestimate the power of a photo wall with a fun, vibrant backdrop in the hospitality suite. Give your team opportunities to make playful memories!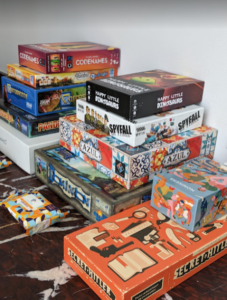 Offering interactive and wellness-focused activities are great ways to encourage participants to work together, communicate effectively, and support each other throughout the experiences. After each activity, provide time for reflection and group discussions to reinforce the team dynamics and encourage personal growth.
Remember that everyone arrives with their own preferences and comfort levels. For example, people who are neurodivergent often process and communicate differently from neurotypical people. Consider lighting, activities, sound, and AV if you are aware of neurodivergent attendees. To learn more about neurodiversity, check out The Neu Project, a wonderful initiative that offers event hosts resources for making gatherings more welcoming and productive for neurodivergent communities.
If you are aiming to have your team extra present during your corporate retreat, be mindful of when you are hosting it. For example, if your business is usually busiest in the winter, think about planning a summer retreat. Also, remember to look at holidays that your employees may celebrate and try to avoid those dates.
Are you still planning to operate "business as usual" while bringing your team together?
If so, it is important to pay extra special attention to agenda timing, as well as your venue's meeting space capacity and internet bandwidth.
To make sure your team members aren't missing out on the retreat experience, coordinate catered lunches and snacks so they are well taken care of while they are working.
Don't forget the fam! Consider opening up your program to the whole family or allowing for space to take advantage of pre- and post- night stays to be able to cater to your family or personal playtime. At Achieve, we have even worked with local nanny services on location to be able to accommodate everyone, while still allowing for time that every individual can enjoy.
Planning a corporate retreat may seem daunting at first, so use these pointers to get started. If you would prefer to set the vision and have a partner take care of the rest, reach out to us today. You and your team work hard, so we're here to make sure you have the best experience with as little stress as possible.